Case Studies
Interpretation Service Case Studies

■ Overview
Founded in 1915, Kiwanis International is a global organization of members dedicated to serving the children of the world with more than 80 worldwide locations and over 600,000 members.
Arc Communications Inc. was selected to provide interpretation services for its 99th Annual Kiwanis International Convention in conjunction with the 50th anniversary of Kiwanis Asia-Pacific held in Makuhari Messe International Convention Complex in Japan.
■ Event Information
・ 6 days total (with 3 days of official events)
・ Estimated 3,000 plus attendees from 50 countries and regions
■ Interpretation Service
・ Types: Simultaneous, Whispered and Consecutive
・ Languages: English to Japanese, Chinese (Mandarin), Korean, Italian, German and Spanish
・ Number of interpreters: 11
■ Interpretation Equipment
・ Simultaneous interpretation equipment, including audio processing systems, interpretation booths and 550 receivers and headsets
・ Three separate sets of systems and booths for three locations
・ On-site technical support staff
・ English-French-Japanese trilingual help staff
http://www.kiwanis.org/kiwanis
● Client Voice:
We chose Arc Communications Inc. for our convention because the team has a deep understanding of our needs. The quality of the interpreters and the organization of the project managers were exceptional. Because Arc Communications Inc. was well prepared for our convention, they were able to adapt seamlessly to some of the sudden changes that arose on-site. This was our second time working with Arc Communications and we highly recommend Arc Communications for conferences and conventions of any sizes.
Kiwanis International
Global Communications Specialist
(August 2014)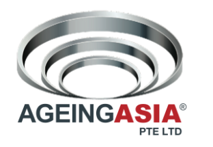 ■ Overview
Ageing Asia is an Ageing Market Consultancy Social Enterprise with the mission to change the way we age in Asia Pacific. They facilitate collaborations and strategic partnerships between CEO-level business, government and community leaders to access Asia Pacific's US$3 trillion silver industry through a combination of in-depth industry research and networking with key decision makers in the business of ageing.
Arc Communications provided interpretation services for the Inaugural Ageing Asia Innovation Forum in Japan held in October of 2014 to experience, learn and discuss senior care and assisted living.
■ Event Information
・ 4 days total including trade show attendance, assisted living facility visits and conference on senior care and assisted living in Tokyo.
・ Attendees and participants included its members, industry business representatives and academic research experts.
■ Interpretation Service
・ Type: Consecutive
・ Languages: English - Japanese
・ Number of interpreters: 3